The Batak People and Culture
29/04/09
Horas!
Welcome to the Batak heartland that centres on Samosir Island and covers the surrounding areas of Lake Toba. Sites of cultural and historical significance to the Batak people can be found on the island at places such as Tomok, Ambarita and Simanindo (see
Lake Toba Album
). Batak houses, with distinctive saddle-shaped, twin-peaked roofs, are eye-catching and unmissable. They can be found all over Samasir Island in all shapes and sizes, from elaborately decorated traditional houses preserved in museums to practical zinc-roofed village houses or resort cottages by the shoreline.
The following excerpt from
Sumatra-Indonesia.com
gives some ideas on the Batak architecture and symbolism built into the design:
"The roofs of the house are designed so the back of the roof in higher than the front. The father of the house always sleeps at the front of the house and the children in the back. The higher roof in the back signifies that the father wants his children to reach higher in life than himself. The steps leading up to the small entrance are always atleast 4, 5 or 6 to signify how many children the family wants to have. The small entrance into a Batak house are designed so you have to bow down to enter the house paying respect to the people inside the house."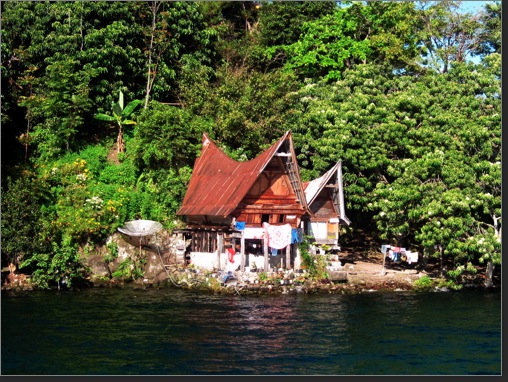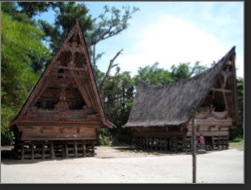 Batak culture is also known to be rich in customs and rituals. This 53-sec video clip, taken at the Museum Huta Bolon Simanindo, aims to give a sample of traditional Batak dance. The performance (Mon-Sat 10.30-11.10, 11.45-12.30; Sun 11.45-12.30) is not to be missed by culturally inclined visitors to Samosir, Lake Toba.
CLICK HERE FOR MORE PICTURES
Related links: